Blue Moon Tropicals is an 8-acre nursery in Eustis, Florida specializing in houseplants, pond plants, succulents, container gardening, and pretty much any cool plant we have luck with. 
After working in commercial horticulture, I began setting up at local events and markets to peddle plants. It wasn't until my father was diagnosed with skin and lung cancer in early 2020 when I decided I needed to do this for real. Without insurance, costs for radiation, chemotherapy, hospital stays, tests, surgeries, and doctor's visits began to stack up – and his loss of employment didn't make things easier. 
Shortly after his 65th birthday at the end of July, it was discovered the cancer had spread to his brain and he began whole brain radiation and immunotherapy. On August 17th, 2021 he lost the battle with cancer and is no longer suffering.
Without the continued support of our customers – those who attended our open-house sales, visited us at pop-up events and markets, and use our online shop, there would have been no way to afford the treatment he received. For that, I thank you and will continue to operate Blue Moon Tropicals to provide support to my widowed mother.
Howl is a three-year-old American Blue Bay Shepherd. Howl is a lazy guy who loves dinner time and laying on the couch. Despite their differences, Howl and Lucy are best friends who love to run, wrestle, and help us with farm chores.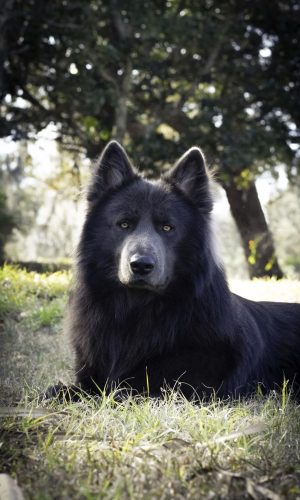 Lucy is a five-year-old Black German Shepherd Dog. She's a people-pleaser and loves a puzzle. She loves playing fetch and chasing the tractor. She's a sweet girl with a happy tail!